Making Music (systems) Work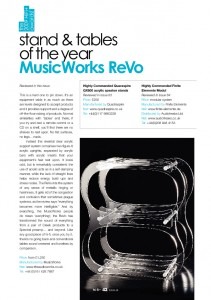 Thinking…Outside the Black Box
'The devil is in the detail' could have been invented for the subject of Hi Fi music reproduction. If you have a good Hi Fi system, and have never seriously considered the effects of support and cabling, then you have never heard most of what your system is capable of achieving!
'..with the ReVo in place, the notes are instantly more tuneful, the instruments more clearly defined in terms of location and size. The rest of the ensemble benefits similarly; as each instrument takes its proper place on stage there is less blurring of the boundaries between them with improvements in other aspects of performance, such as timing, attack and decay. Acoustic spaces take on a distinct character, dynamic shifts become more emphatic. Musicians play with more sense of commitment and elan and their instruments have more substance…'
Not our words, but those of Hi Fi Plus reviewer Steve Dickinson when he put the MusicWorks ReVo table into his own system. We couldn't describe what our products do better, so we haven't tried.
 What Makes Our Products Special?
Firstly, the realisation that the source of all energy for a music system is the supplied power. And, secondly, that the more energy a music system produces, the more disruptive this energy can be due to the effects of microphony. Every component in a Hi Fi system is microphonic.
Finally, the knowledge that external electromagnetic fields are destructive to the delicate music signal. MusicWorks power distribution products, and cables from our colleagues at Audiomica, are designed to lower the impact of stray em fields. This results in music with more profound silences, better tonality and richer, more accurate harmonics.
Because no measurement system is capable of telling us what we hear, we use music as the ultimate reference against which our products are measured. The analytical non music based approaches advocated by most subjective reviewers is ultimately useless in helping evaluate the effectiveness of an audio component, only by reference to music, and using musical criteria can you hope to get a musically satisfying audio system.
Latest News
First Reviews of Audiomica Cables
See here for the first review of 6 Audiomica cables in Hi Fi World May 2013 issue. HFW_May13 AudioMica Cables
New MusicWorks Product Catalogue is now available

Just click on the image on the right to access the pdf  of our new catalogue (note 1MB)